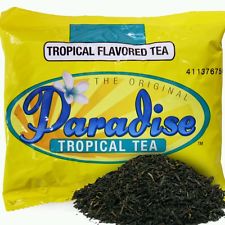 Paradise Tea still offered at Coffee Wholesale in 1 ounce filter packs
Have you been looking for your favorite tropical tea in the little yellow box and you haven't been able to find it?
The tea you fell in love with from the Cheesecake Factory, Trader Joes, Nordstrom's Cafe, Superior Coffee Shop, and other retail outlets is no longer being manufactured in the smaller "retail" size filter packs that you've grown accustomed to.
While we're not sure why the manufacturer decided to discontinue this popular item, there is good news…  Your favorite tea (Paradise Original Tropical) is still available at Coffee Wholesale USA (www.cw-usa.com) in larger 1-ounce iced tea filter packs.  Yes, it's the same tea, just more of it!
The smaller filter packs (that were discontinued) were designed to brew a 48-ounce pitcher of Paradise tea.  The larger filter packs (that are still available) are designed to brew 1 to 2 gallons of delicious fresh-brewed tropical iced tea, depending on how strong you prefer it.  The 1-ounce filter packs come in Original Tropical, Original Tropical Decaf, Tropical Green, and China Black (unflavored).  Unfortunately, the Paradise Passion Fruit tea is no longer available in any pack size.
Paradise Flavored Ice Tea has been served since 1989 and has had overwhelming success, winning numerous awards including Chefs in America Foundation. The tea has a 4.9 out of 5 star rating by our customers. Paradise tea is made from the finest Ceylon Tea and special flowers making it naturally semi-sweet without sugar, and an all time favorite for ice tea lovers throughout the nation.
Coffee Wholesale USA (www.cw-usa.com) is a leading online coffee, tea, snack and equipment supplier to wholesale and retail customers.
See below for for Paradise Tea brewing tips and tricks, or feel free to contact Coffee Wholesale USA (www.cw-usa.com) for more information on how to brew Paradise Tea using the larger filter packs.
Directions to brew the perfect Paradise Iced Tea gallon:
Start with a clean empty brew basket, if possible one that is dedicated to ice tea brewing
Place easy brew bag in the brew basket, no additional filter is necessary
Brew as you would ground coffee (using 64oz of water)
When finished brewing, carefully remove brew basket and discard used tea filterpack
Place the brewed concentrate in a one gallon or larger container and dilute with 64oz of ice-cold water… this "shocks" the tea, locking in it's delicious tea flavor
Fill your ice tea glass ¾ full with ice
Garnish with your favorite fresh fruit… Orange slices are the best compliment to the tropical blend
Sit back and enjoy!